A Transparent Contribution Platform for Digital Assets on the Blockchain.
CONTRIB was created to unlock and distribute the value within our premium digital asset portfolio of 22,000 premium digital assets/URLs. We are now able to unlock the value by leveraging digital currency with distributed ownership with the Contrib coin (CTB).
What is Contrib Cryptocurrency?
Contrib's model allows for verifiable contributions with CTB coins on some of the worlds best digital assets such as Staffing.com, Streaming.com and many others. Owning a piece of the entity value with each verified contribution. CTB coins use a shared distributed ledger to manage and verify value to contribution ownership. Contrib uses our eShares Protocol to define how assets and values are created, authenticated, valued, issued, transferred, secured and controlled on a blockchain network. .
In order to embrace our vision of creating a truly decentralized autonomous contribution platform we are launching a secondary utility token known as the eShares Coin (ESH) in which you earn ownership in any of our individual 22,000 digital assets.
Contrib's ecosystem
Contributors are vetted by their increasing contributions to any brand or our featured brands on the blockchain.
Contribs or Contributions are verified and approved using VNOC, our proprietary Virtual Network Operation Center.
EShares are energy allowing members to exchange and acquire into other assets within the Contrib platform of assets.
Contrib's token (CTB) and ESH coin
After validation and team approval, Contributions will be pushed to the blockchain via CTB so others see the value of the contribution. Full transparency is the driving parameter of the Contrib platform.
After CTB token acquisition, Contributor will now have access to exchange CTB TO (ESH) or any currency, depending on their agreement and terms.
eShares Protocol defines how assets and values are created, authenticated, valued, issued, transferred, secured and controlled on a blockchain network.
eShares platform allow other digital assets to operate a transparent network using a stakeholder model coexistencing with multiple types of assets and interoperable with other networks.
Token Sale Terms
1 Billion Tokens Issued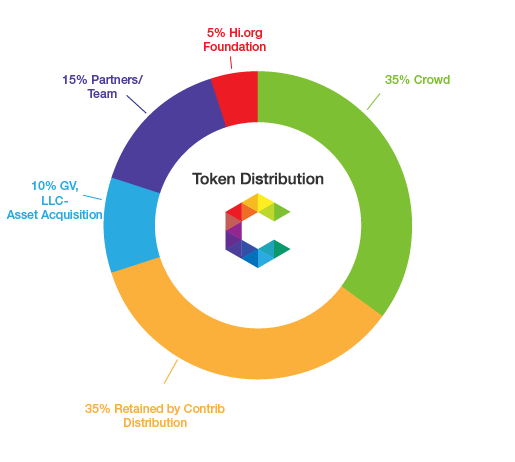 Maximum cap on crowdsale: $22 million
Total token supply: 1 billion (1,000,000,000) CTB, of which:
35% Crowd
35% retained by Contrib
10% GV, LLC
15% Partners/Team
5% Hi.org Foundation
Ethereum ERC20 token
Purchase methods accepted: ETH, BTC, and USD.
PLEASE NOTE THAT YOUR USE OF THIS WEBSITE REQUIRES FULL ACCEPTANCE WITHOUT RESERVATION ON YOUR PART OF THE CONDITIONS OUTLINED IN THE TOKEN SALE TERMS. IF YOU DO NOT ACCEPT THESE CONDITIONS, PLEASE DO NOT ACCESS THE WEBSITE OR ANY OF ITS PAGES.
Version 1 is still in the final stages. Signup and we will deliver our Contrib Whitepaper to your inbox. Thanks!